Colourful youth crowns the wooden king
Songs of joy the birds do sing
What lurks behind the fruit of bloom?
Is it endless life or day of doom?
Shaken by invisible hands they fall
which given life before now crawl
Scattered on the ground they lay
Patiently kings defenders fade away
Fate revealed what once concealed
Considered to be a mighty shield
Bony hands which grab light tight
Scary in the mist they look at night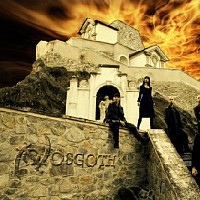 Roots deep down beneath forever last
From above the seeds like clouds of dust
Follows principle of nature's riddle
But just a little - just a little
What seems to be the field of battle
Chaotic like the snake that rattles
What could be the funeral chapel?
Is it an apple - just an apple?