Now this is a story all about how
My life got flipped turned upside down
So I'd like to take a minute - just sit right there
I'll tell you how I became the meme called Pedobear.
In West Neverland, born and raised
Stalking playgrounds is how I spent most of my days
Checking out max, relaxing all cool
Playing with my balls near the kids pool
When a couple kids who were looking real good
Didn't check the registry in their neighborhood
I touched one little kid and her mom got scared
She said "I'm calling the FBI you sick Pedobear!"
So I whistled for a van but when it came near
The license plate said Chan and there was a party in the rear
If anything I thought this van was a snare
Ah, forget it you can't catch Pedobear!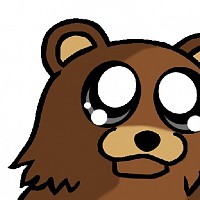 I pulled out of this girl who was 7 or 8
Yelled to the Moralfags "Yo Homos! Sage you later!"
Looked at her crotch, got there before hair
She can sit on my bone - cos I'm the Pedobear.
Unclassified lyrics