There's no way
that I can love someone
But I want someone to love me
Even if yesterday stayed unchanged forever
We couldn't go anywhere
You and me
Dear God, where did you go? Hey
But there's no answer; it's always like this
Are you still here?
You'll never walk alone
I'll go with you
Bearing
any sin you've got
I'll walk
down the uncharted path
All alone with you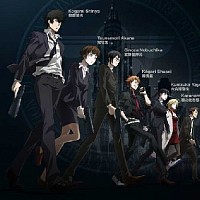 Come over here
Touch me and kiss me
You may
mess me up even more, okay?
If everyone is going to die
and be forgotten someday
Then I'll only believe in what's certain now
Dear God, those who are pretentious say
that people are strong
But that's a lie
Do you agree?
I will stay with you
Hug me
with your hands
and with all your heart
Don't be scared
I'm all better now
Even if your hands
ended up getting dirtied
I'd still want you
to love me
You'll never walk alone
I'll go with you
Bearing
any sin you've got
I'll walk
down the uncharted path
with you
I will stay with you
Hug me
with your hands
and with all your heart
Because I desire
any and everything that you have
All alone with you