I climbed all circles
A living annihilation
Hideous entity rise!
Abyss's herald rise!
Crossing the spectral plane
Faceless berserker
Son of the end rise!
Hellbound legion
Rise!
The beast that you fear
I ride!
The beast that you fear
I ride!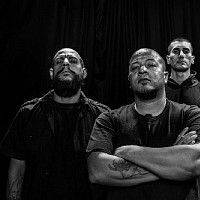 Assassins betrayers
Liars and thieves
Usurpers messiahs
Preachers and priests
A nation of demons
Mankind in its core
For we are many
And calling for more
In eternal inferno
They live and they die
The scum of this race
Shall not reach the daylight
Reigning in disgrace
I praise the extinction
For we are many
I am legion
Coming once for all
I face the desperate prey
Human waste
Pitiful race
And their epic fall
I incite unveiling
The shameless fail!
In a dead landscape
The hell's decrees shall prevail!