Sons of working class
Rebels with a cause
Rockin' out the Subs
Riots in the streets
Maggie and her pricks
Are trying to forese
No money in their packs
Guitars on their backs
Playin' loose and fast
Firing Rock 'n' Roll
A cellar recs their souls
Waitin' for a cal
One day they'll ed their quest
And everyone will point up their fists
TO SKY
Their legacy will live on and on
That day is yet to come
But they can shout loud
to the MIC:
OK - Ooooh My!
Denim on my legs
Leather on my chest
A mullet in my head
Craving for the gigs
Penniless I live
Dreaming of '80s
Heroes on the stage
From the golden age
Dancing on your grave
The spirit of the past
A passion that it lasts
I won't hear you laugh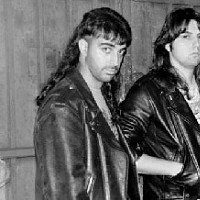 One day they will return
With Heavy Thundering fists
TONIGHT
Their legacy now lives with me
That day is coming now
And I can hear
The speakers that cream:
OK - Ooooh My!
In this captured city
let the Inferno arise
My own battlecry
will set the stage alight!
Laying down the law
I'm running free tonight
I've got Heavy Metal music
in my blood!