Crimson steps near the edge.
Falling down and keep on crawling.
Dark awaits no more regrets.
Take a breath as downfall rolling!
Misty doorways calling me to get in - I can see the end it is leading to.
Wounded as I bleed - I know more wish I knew the truth.
How can life be what you want it to be?
Every second you waste is another reflection.
Why can't you see that you're all within me?
If there's no way to live, then
Keep bleeding, all faith is gone,
Pain will last forever if you don't know.
Stray heart as lead by obsession,
Lightened up by handling regression,
Once you cross the line you're obliged
to close your eyes and dive.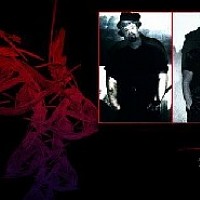 Haunting pain inside burns
Will I last or keep on crawling?
On the tracks I lay my head
Careless steps all through my life!
Time is off to think I no more wish to hold,
Rely on something.
Everything is fake, I'm starting to believe
I'll always keep on stumbling.
All faith is gone and I still bleed
I twist I turn but I can't find my face
All I see now, broken dreams and hate!
Why can't you see? How blind can you be?
Every step that you take is another endeavor.
Silence your screams: it's enough to believe that
The lost ones observe without gaining nothing.
Every killing comes from deeper
Longing for the high prize
Innocence fades away.