The snow is falling
In the dark of night
And this silence is scaring me
The red dictator
Devore my soul
The spirits dancing in the air and asking me
Who is your savior?
My heart is my savior!
I see them laugh
Before salvation
I'm scared, for sure
My heart is my savior
Blood and legends
Within temptation
The blood is everywhere
On their face
Stranger game...
Another man is invited to die again
Another fragile ghost is crying out
And the pain is just too real, is just too strong
Before the dawn
I'm insane
Who wants to live forever?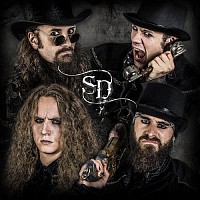 I see them laugh
Before salvation
I'm scared, for sure
My heart is my savior
Each religion
Injects the venom
The blood is everywhere
On their face
And now my skin is white and cold
I lay my broken heart to rest
Oh... so many times I've lived in fear
So many times
My heart is my savior
I see them laugh
Before salvation
I'm scared, for sure
My heart is my savior
Blood and legends
Within temptation
Blood and legends, my heart is my savior
My heart is my savior
My heart is on their face