Evil sorceress clutches her staff
Gnarled hands, loathsome laugh
She will teach me this wretched craft
Glowing eyes loom, lighting the ominous path!
At the edge of the forest in a crooked hut she dwells
The skeleton witch is death herself
Gleaming birch trees claw in the dark
The frantic thumping is my own heart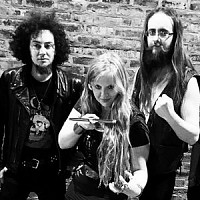 Mastering the forbidden arts
Thickly cloaked poisonous scents
Tinctures thrown in the hearth
To cut out her beating heart!
COAT! THE DAGGER!
MYSTIC! FLAMES!
Steel on flint, glowing otherworldly spark
Black-cloaked rider, to confuse and deceive
The witch is cunning, she'll have no reprieve
Shadowy sisterhood answered the call
By day end, my foe will crawl!
Now one with battalions of the night
Malevolent blade, enchanted demon rites
Howling wind, gurgling screams
Eldritch power reigns supreme
The shadowy sisterhood called out my name
As she drew her last breath
Cost of their heathen gift
Is my... DEATH!