Red haired spawn of the devil
Eyes burn fierce; they smoulder
Thou shalt not become his slave
Slit his throat, in his blood I will bathe!
Cold fury turn me brittle as steel,
Ride through a ribbon, of starlite
Walled by black forest trees
From a life of solitude; I flee!
I sell my sword, to the highest bidder
To ride with my brethern
With shining steel by my side
Crush the traitors and revel, in their cries!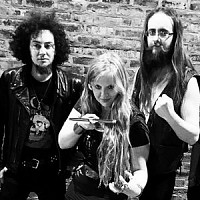 Heart beats quick with strange longing,
Live as I please and die as god wills
Eyes dance with reckless madness
Trade drudgery for wandering and violence
The pounding war drums call me endlessly
To roads where armored captains ride
With banners flowing crimson dyed
To never be swine's bride
Forever, you will be........ DENIED!
"My sisters bend above their looms
And gnaw their moldy crumbs
But I ride forth in silk and steel
To follow the phantom drums"