When darkness and chill refreshes the ground,
The silver smooth moon keeps on looking around
And I have no power to keep it inside,
Something tries to get rid of this vacuous life
Escaping the sun and the earth, and the real world
We'll fly up so high, to the place you were not told
Straight into the Black star, into my heart,
Where we could be free and never apart
My hands raised up high and I pray once again...
Now please tell me why?! Help me to understand!
Human race is so fulfilled with anger and fear,
Destroying tomorrow the end getting near...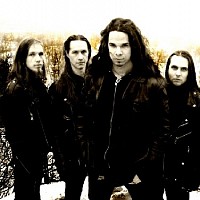 When the sun starts the journey across endless sky,
Sinful mortals arise after pure, empty night...
And we are still here standing and waiting so silent,
We'll return to the star with the very first twilight.