Highest mountains around hide us from the sun
Darkest forests within keep us as one.
My mother, they've burned her alive
For the child she has born wasn't a child at all...
Helpless, followed with disgrace, they left me to die…
Crying into the moons face, one in the night...
My father he took me away
To the place where I could grow being what I really am!
Breathing, darkness deeper inside,
Cold and anger filling my eyes,
Can not resist watching the moon!
My only friend, we will meet soon!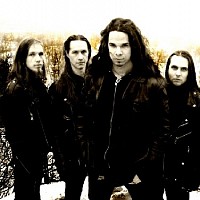 I still hear it, I still feel it,
I still follow the howl of wolves!
Endless night is what I wait for,
Endless freedom for what lives in you...
Hunger! I bite and I feel, taste of your blood...
Sinking! In pain and I feed... Beast in the flood.
I grew up and I came back,
Taking my revenge, having no mercy! Mother!