Quenched by the cyanide of all insanities,
My thirst has come to be more pungent
Oh, heart-blinded orphans!
This is a brave new dead world
Thus, Father, you are no more
Seeking eternity lost
Infamous and foolish act
Of your vile treachery
Oh, exquisite decay
No great prospects
Denial as unique legacy
Crowning creatures of emptiness
Teaching the homily of disgrace
Falling! Perdition be my guide
Sacred are the pleasures of failure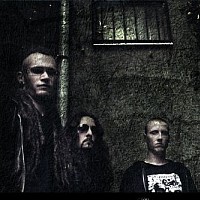 Bred with the arsenic of all sick fantasies
This is a revolting world
Thus, Father, you were nothing
Unveiling the greatest of deceivers
Weakness and waning of the usurper
Dying! Deception be my guide
Contemptible praises of renunciation
Erratic and morbid
My visions are fading
I am the parricide
Enemy regicide
Universe's arsonist
Multitude's hypnotist
Torn in fragments
Hubris of a glorious dream
Sever the nexus
Beseech lysis
Debased!
Vain is the nisus
Herald ptosis
Decayed!
Magnified excess
Torture and oppress
Hatred manifest
Rotten by sepsis
Suffer stasis
Corrupted!
Lunacy's axis
Desecrate!
Pleasure divine
Of a weakened flesh
Recreate your world
Failure divine
Suffocating mesh
Cynic woes unfurled
Hideous whine
Suffer horrid rules
Of these blood-soaked tools
Sacrifice of yours
Feigned freedoms lures
We are the grime
We are the murder
Of what you have been
We are the crime
We are the sinner
We are your disease
Dissoluteness
Of all senses
Politics of sin
Quest laid astray
Abduction of appearances
That tear laid us bare
Searing pain to burn illusion's draperies
Sentinels of Nothingness
Shades of all Men
Revolt!
Shatter the temple of the usurper
Of negation, I am the prisoner
When misology marry misanthropy
Disgust enthrone my insanity
Devoured by all oblivions
My pain has come to be more acute
Sick fury as unique Anabasis
That initiates the palingenesis
Slaying! Subversion be my guide
Admire the ritual of your ruin
Erratic and morbid
My visions are fading
I am the parricide
Enemy regicide
Universe's arsonist
Multitude's hypnotist
Homo homini deus
Inclinatio universalis.