Migoft az nashre hughughe bashar.
Kasi ke taa aakharin nafas
barde daari kard.
Be esme demokraasi tu aalam
Che khunhaayi ro
rakhte sorbe daagh kardTalking about spreading the human rights,
Talking about spreading the human rights,
whilst keeping the slavery
till the last breath.
The number of bullets that
has been wreathed in blood
in the name of democracy.
Che sokhanvarihaa ke nakard.
Az aazaadiye bayaan.
Hamun ke munde jaaye dastaash ru
galuye jahaan. There's not a speech that wouldn't mention
the freedom of speech,
yet pronounced by those whose handprints
dwell on the world's throat.
Be fardaa etemaadi nist.
Chekaadr nazdike paayaan.
Bebin haftirkeshe taarikh.
Shode safire solhe zamaan. There's no trust in tomorrow,
the end is near.
Look! The one who would always use a gun
has now become an ambassador of peace.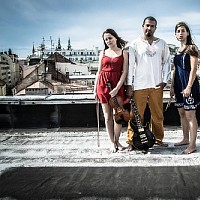 Amaan az daste baanye setiz.
Amaan az gozinehaaye ruye miz.
Amaan az sokute az samime tars.
Amaan az hesaare jahle bigoriz. Deliver us from the source of conflicts.
Deliver us from the options on the table.
Deliver us from the silence resulting of the fear deep inside.
Deliver us from the cage of ignorance impossible to escape from.
Unclassified lyrics