Coming for the future to erase your kind
Our war will never end
With precarious weapons
Facing the human resistance
Judgment day is near.
You will face a new nightmare if you survive
War against machines
They send us to exterminate the protector
We didn´t come in peace.
When the world goes down
Rise the machines begin
Our war to exterminate mankind, had raged for decades
From the ashes of the nuclear fire, the world dominate
The final battle would be fought in our present,
not in the future
Victims of their own technology, wait for the arrival.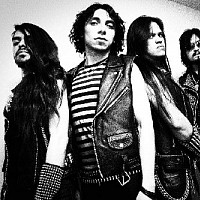 Cyborg -- We are made of flesh and metal
Killing people moving around (A world gone mad)
Cyborg -- Our battle is forever, computerized attack (x2)
Human race will be destroyed by nuclear attacks
all over the world
Cold war -- era, fallout shelter is not enough
The war has begun, it´s too late to turn back,
nuclear holocaust.
Coming for the future
to erase your kind
Our war will never end
With precarious weapons
Facing the human resistance
Judgment day is near.
Our mission: destroy the leader
Before he was born
The resistance sent him a warrior
1984