These aren't the good moments
when the life is on my back again
So much hatred dwells within us all
I won't let you crush, remodel, kill
you mean nothing, don't deceive yourself!
Go away, I can't stand your verbal
torments, let it go, don't hurt me more
Before you will do something stupid
think of how you're hurting me
when you stab your knife into my heart
The hatred, your words are entwining
my mind, catching in a spider's web
Happy now, today for me you mean
nothing, I could kill you, are you scared?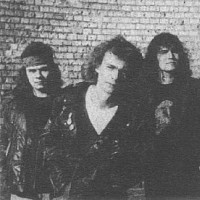 So much hatred in my heart
the venom's spilling now
Pain's devouring blinded senses, oh!
How much trouble one can handle
I am learning now
vanishing behind the veil of pain
It's long since I have stopped to listen
to the demons in my head
what to do, what to say, how to live
I won't let you crush, destroy, rape
remodel, kill, deceive, I know I won't
Every word's killing me and pain
is festering my heart, I won't give up!
I was supposed to leave you but
you've caught me in your web again
The psycho war is rolling on
stop vexing me, you are pouring venom
in my sick ears just to badger me
Hell with you, I am leaving, won't come
back, I'd rather die, delusions stop!
So much hatred in my heart
the venom's spilling now
Pain's devouring blinded senses, oh!
How much trouble one can handle
I am learning now
vanishing behind the veil of pain