Is this a voice that is calling?
Is this a hopeless scream?
Is it my imagination?
Is this a painful dream?
Is this a light that surrounds me?
Is this the voice within?
Is this the end of my living?
Is this the final stand?
My mortal life
Has come to the end
Now I reach for the sky
And play my final act
My visions of hopeless despair
Are ending the line of my thoughts
I regret for the life that I made
I beg for forgiveness
I pray for my sins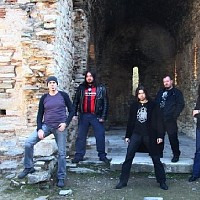 My conscience won't let me be
Until the last breath of mine
I long for my soul to be free
Is this my last destination?
Am I guilty of sin?
Is this the hell I am going?
No angels there for me...
Is this the last candle's burning?
Is burning just for me
Is this my final remembrance?
None will remember of me...