Seven seals, will break
Seven gates, will open
The sky will burst in flames
The moon will cry tears red
Be prepared for the final call
Be awake for the final war
The walls of hope will start to fall
The bells will echo through the soars
Seven trumpets will bugle
Seven whispers, seven screams
The final warning for us all
Beware you sinners for your time has come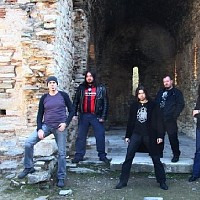 Revelation has begun
And it's time for all of us
To pay for our sins...
Watch out! For the fatal conflict
Deliver your soul it's never too late
Watch out! For the time soon will come
Regret for the sins you have done
Lay down on your knees, pray for your soul to be free
From the demons that will tempt you to...sin!