FIRST YOU SET UP THE BOARD
AND WE EACH PICK A CARD
ARE YOU PAYING ATTENTION?
THIS GAME CAN BE HARD
Yeah ,I know how to play Guess Who
NEXT YOU'LL ASK ME A QUESTION
AND I'LL SAY NO OR YES
THEN YOU FLIP DOWN THE NOS
AND CONSIDER THE REST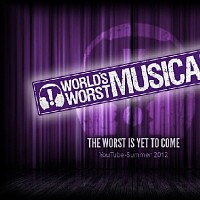 So are you going to ask a question
or are you just going to sit there and look at the board?
WHEN YOU START THE GAME
YOU SHOULD LOOK AT WHAT'S BEFORE YOU
CONSIDER ALL THE OPTIONS
BEFORE YOU MAKE YOUR MOVE
DOES YOUR PERSON WEAR GLASSES?
Yep
IS YOUR PERSON A MAN?
I'M GONNA GUESS NOW
THAT YOUR PERSON IS SAM
NOPE NOPE NOPE NOPE NOPE!
You know what? I give up
You win, good job
Hey!
YOU GAVE UP TOO EARLY
IT'S SUPPOSED TO BE FUN
WHY WOULD YOU STOP WHEN WE'VE ONLY BEGUN
WHEN YOU PLAY THE GAME
THERE'S A POINT TO EVERY QUESTION
YOU GET TO KEEP THE GOOD CARDS
AND KNOCK THE BAD ONES DOWN
TAKE ANOTHER TURN
YOU JUST HAVE TO KEEP ON GOING
SILLY TO EXPECT THAT YOU'D
SUCCEED ON YOUR FIRST TRY
PLAYING GUESS WHO
PLAYING GUESS WHO
PLAYING GUESS WHO
IS SHE WEARING A HAT?
Yes
NOW I'LL ASK YOU THE SAME.
No
I'M ONE QUESTION CLOSER
TO WINNING THE GAME!
DOES YOUR PERSON HAVE RED HAIR?
Nope
DOES YOUR PERSON HAVE WHITE?
No
I'M SO EXCITED I'M SURE THAT I'M RIGHT!
It's Maria!!!