IMAGINE THE WHEEL
AS THE FACE OF A CLOCK
AND PUT YOUR HANDS AT
TEN AND TWO
ARE THERE TO GUIDE YOU
YOU MUST ALWAYS HOLD THEM THERE, OK?
HAND OVER HAND AND RELEASE THE WHEEL
AND THEN YOU'LL BE...
TURN YOUR WHEEL
AND MERGE WITH TRAFFIC
IF THERE ARE CARS THAT HONK, YOU'LL BE OK
IF YOU LEARN ALL THE RULES OF THE ROAD TODAY
THEN YOU'LL BE...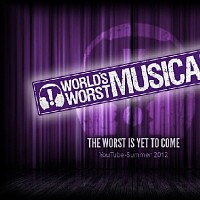 NOW HE'S GONNA TEACH US
RULES OF THE ROAD
NOW HE'S GONNA TEACH US
RULES OF THE ROAD
NOW HE'S GONNA TEACH US
RULES OF THE ROAD
NOW HE'S GONNA TEACH US

FOLLOW THE CONES
BUNCHING LEADS TO CRUNCHING
DON'T GO TOO FAST OR SLOW
MAKE SURE YOU CHECK YOUR BLIND SPOT
BEFORE YOU START TO GO
FOLLOW THE RULES OF THE
FOLLOW THE RULES OF THE
FOLLOW THE RULES OF THE ROAD
FASTEN UP YOUR SEAT BELT
REMEMBER SAFETY FIRST
IF YOU AREN'T CAREFUL
YOU'LL END UP IN A
FOLLOW THE RULES OF THE
FOLLOW THE RULES OF THE
FOLLOW THE RULES OF THE ROAD
Remember, the rules of the road
OCTAGONAL SIGNS ARE
USED FOR STOPPING AND THEY'RE
RED LIGHTS STOP THE TRAFFIC
GREEN MEANS GO
SLOWLY WHEN IT'S YELLOW
SIGNS ARE USED FOR DANGER
IF YOU DO NOT FOLLOW
RULES OF THE ROAD
Remember, the rules of the road
PROPER SAFETY IS THE
KEY THAT STARTS YOUR ENGINE
LIGHT MEANS THERE'S A WARNING
GET IT CHECKED
OUT OF GAS WILL STOP YOUR
MOTOR VEHICLE DEPARTMENT'S
WHERE YOU'LL GET THE
RULES OF THE ROAD
Remember the the rules of the road
POINT-OH-EIGHT'S THE LEGAL LIMIT
WEIGHT ON BRIDGES
SOMETIMES MAY BE ICY
WATCH YOUR TURN
SIGNAL WITH YOUR BLINKING
LIGHTS MEAN TRAINS ARE PASSING
ALL THE TESTS REQUIRED
RULES OF THE ROAD

THERE ARE RULES TO FOLLOW - OH OH OH

SO MANY RULES TO FOLLOW
RULES OF THE ROAD
NOW WE'RE GONNA FOLLOW
RULES OF THE ROAD
FOLLOW THE RULES OF THE
FOLLOW THE RULES OF THE
FOLLOW THE RULES OF THE
ROAD