Guy:
Oh no.
Pigs:
WELCOME TO THE CRANE GAME
TAKE IT FOR A SPIN
DROP A COIN
AND DROP THE CLAW
IT'S REALLY HARD TO WIN
WELCOME TO THE CRANE GAME
ONLY FIFTY CENTS
PICK ONE OUT
AND MOVE THE CLAW
WIN YOURSELF A FRIEND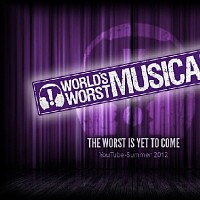 Pig 1:
Hi! Welcome to the crane game
Guy:
Um, hello...
Pig: 2
Do you want to be my friend???
Guy:
Um, sure.
Pig 3:
Let's do something!
Guy:
So what do you guys do all day?
Pigs:
WE SIT AND WATCH THE WORLD GO BY
SOMETIMES PEOPLE STOP
WHEN WE HEAR THE SOUND OF COINS ("clink clink" in time)
YAYY!!
THEN THE CLAW WILL DROP
Fat Bear:
Huh!!! It's me! its me! ohhhhhh!
Pigs:
WE'RE SO SAD TO SEE YOU GO
Pig 1:
BUT WE'RE ALSO GLAD
Pig 3:
YOU'LL MEET FRIENDS OUTSIDE THESE WALLS
Pigs:
YAY
FRIENDS YOU NEVER HAD!
Fat Bear:
Ohhhh! OH! OH! Oh.
Pigs:
WELCOME TO THE CRANE GAME
GLAD TO HAVE YOU BACK
FROM THE CLUTCHES
OF THE CLAW
AND ITS FAULTY TRACK
Guy:
Faulty track? I knew it! No can win this game. I've been saying that for years
Pig 1:
No!! It's not faulty! You misunderstood!!!
Fat Bear:
NO ONE EVER WINS ME
BECAUSE THE GAME IS RIGGED
IVE TRIED TO MAKE IT OUT BE-
GUY
I knew it, it's impossible!
Pigs:
IT IS NOT IMPOSSIBLE
IF YOU REALLY TRY
WHEN YOU DROP
A LOT OF COINS (clink clink)
YAY
YOU CAN REACH THE SKY
Guy:
Reach the sky? What does that even mean???? rWhat are you even talking about, this doesnt make sense anymore!
Pigs:
WELCOME TO THE CRANE GAME
NOW IT'S TIME YOU GO
BETTER NOT BE TELLING
ANYBODY WHAT YOU KNOW
Guy:
Oh i'll tell everybody. i'll call your vending company.
Pig 1:
Fine. you leave us no choice
Pigs:
COME INTO THE CRANE GAME
JOIN US IN THE CRANE GAME
STUCK INSIDE THE CRANE GAME
NEVER LEAVE THE CRANE GAME
CRANE GAME
CRANE GAME
CRANE GAME
CRANE GAME
CRANE GAME