Wars of wars, anger and faith, for Tantarica's
lands
Fortresses and valleys were taken by the evil forces of
Katran.
Loneliness, on his heart he wants (searches for) forgiveness
From
the clouds Ayar Tawar, comes to save us from the dark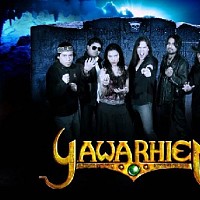 Between the
mountains he's coming back, to the land where his heart, someday found
love.
Now he is returning for revenge, between hills and forests, on his
madness searches for her.
Chorus:
You will feel the pain of death, the
sacrifice of your sweet loneliness.
Your tears are gonna fall, (you) are gonna
tremble and amnesia will fall upon you.
Don't see again, your wings in the
sky...
Now you are the sacred god of the world
He is crossing the shadow
lands trying to remember...
Forgetting the whispers and the dreams we
had...
Agony of time, in my mind, you will come back.
Go my warrior, you
have to fight, don't see tears, don't try to cry.
It's your soul which claims
revenge; kill the demons of the land.
When the light illuminates his flight,
his wings...
Next to condors (he) searches for her soul, looking for the
waterfalls.
Between the valleys and the clouds, between hills,
between mountains, on his madness (he) searches for her
Hundreds of thunders
crash the earth, when on his fortress his agony awakes.
Chorus:
In the heart
of the sky … blood of darkness, of passion and faith.
If you lost your fear…
you will see how the heavens fall down.
Courage my warriors, to carry the
truth is your mission in life.
Soon, it's written in the land, (and) you will
feel the sea, heaven and earth...
Come in.