Between my veins, I kept my strong and sweet poison that
calmed the pain.
And if the wind was some time more free, god! It finally
escaped.
Towards the screams of the innocents of this tragedy, (they) were
burning in flames.
The skies were stained, the ground and the holy valleys…
sprayed of hope.
Blood scattered inside the empire, meaning hate and strong
pain.
Tantarica´s death broke out all the anger of this holy
war.
Chorus:
When all my nightmares, finally ended,
I felt some visions of
eternity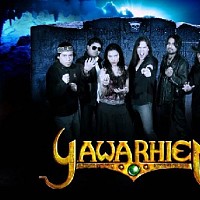 This is the bloodshed wasted in each of my dreams, of tears and
pain.
From the rivers where her blood runs to the sea, holy life
emerges.
(Oh!) From those black nights where I used to walk through rivers,
decipher my steps.
There lie the secrets to create realms of harmony, and end
with this war.
Holy guardians of the hills, keep the fortress... the temples
of the Sun.
Holy rain consecrates your empire, condors fly
high.
Chorus:
When all my nightmares finally ended,
I felt some visions of
eternity