The depths of our depravation. Oh how far we've fallen, further and faster into the depths always prepared to take the next bite. Forgetting what is right here, but have you ever looked into the eyes of someone who is dying? Its always someone else's problem, unless our appetite for flesh hasen't been sated.
All the sacrificial blood that was spilt! Oh blessed country how far you've fallen! Your wound is as deep as the sea. How you love your complacency! But soon the earth will shake, the skies torn asunder. And all will see your foul nakedness!
You will loath yourself for what you've become.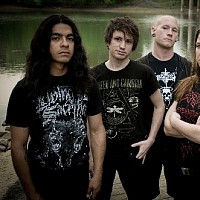 Outside the sword bereaves, inside there is only death.
How we conform to this life. So afraid to break the mold.
Accursed flesh, which only seeks to kill!
Accursed soul, bound for the pit of fire!
I would cut out my own tongue before I would betray You again for I love Thee more than my own life!
If we must bow, let it be to the only Truth which has stood for all eternity. And all must bow in one way or another. Be not decieved all will fall.. they'll fall down to their knees.
So light up the darkness
Destroy the blindness
Embrace the innocent
And fear not to believe
Discard this decaying flesh, and choose wisely your god, for mine will devour them all!