Bright eyes stare blankly into the night as the scenery rolls by. She doesn't know where she's going, but she's hoping for more than where she's been. Wide eyes watching her father smile as he counts the gold in his hands. Just eight years of life, and she disappears from sight.
Something's wrong, her tattered robe she wraps tighter around her innoncent body. As the sun goes down on the head of little Angel, never to rise again. And the sun sets in the east.
Clean up Angel, your next lover draws near. The sweat pours down his face as his hands grope her tainted body. Angel close your eyes and dream of fields so green, so alive. As the door creaks open.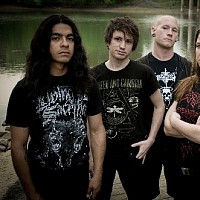 Could it be another man, or mistress coathanger in hand? Angel's heart groans in time as the footsteps come ever closer.
Who will make it right?
Wipe one tear away, a thousand more will fall. Use this as your excuse to do nothing at all.
Brother it is you who sends her into eternity, when you knew the answer all along
Brother it is your footsteps she hears coming down the hall
It is your footsteps that send her fleeing down the hall