As i walk through the valley of the shadows of death,
i hear a shuffing footstep and take a bated breath.
Out from the shadows comes a blank and vapid stare,
reaching out for contact without the slightest thought of care.
I take a fewsteps backward, its body comes into the light,
some details escape me thanks to the moonlit night.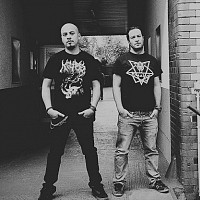 His face is gnarled in a way that tells his death was slow,
gashes on his face, and a hole, where was once his nose,
His cheek torn off from lip to ear creates a deadly grin,
and blood leaking from out his mouth dribbling down his chin.
A sleeve torn off his blooded coat
save the stains, is clean and pressed,
his pants match his charcoal top, professionaly dressed.
A tear within his undershirt reveals his ribs and heart,
the stumbling toward me groaning, it makes no jump or start.
In the arm that is revealed, i see a scrape like from a fall,
the deeper than any before i'd known, i spy the sinew, bones and all.
I can't help but chuckle inward, when i see one foot drags behind,
like i'd seen in all those movies,
Dawn of the Dead and like that kind.
The other foot is shoeless, and had been for a while,
as no more skin is present from dragging on for miles.
He lets out one last guttural moan and lurches out, then falls,
i try to dash backwards, but my back has hit a wall.
His arm, the rotting all apart a relentless grip on my leg,
the blood thirsty and inhuman, takes one last look up, as the to beg.
He sinks his yellow theet and blackened gums into my flesh,
after letting out a stifled scream, i kick at his head, my efforts
Gnawing as i stomp his skull, making one his head, the ground,
i give a few more, good measure for, after death in him was found.
Knowing now not what to do, wrap my shirt around my calf,
i walk along, and thru prevail, begin to proudly laugh.
My raucous celebration is brought right to a halt.
With pain in my chest, i made fall on my knees.